CeaSaR wrote:
I was going to suggest netsend, but like you said, that was disabled long ago. Besides, you would actually have to both belong to the same network. That is not the same as sharing a router. To do that, you would have to create a network on one of the computers and then add the other one, then you'd both have to log on.
True- however there might be additional advantages to setting up both machines as members of the same "workgroup". For starters you could share things like music archives, printers, photos etc. Also, I don't think you can even get to a desktop without logging in on anything based on Windows NT technology. Even if the machine is dropping you directly to the desktop it is doing so by logging you in as a user without a password- but you *are* being logged in anyways.
Quote:
Let me dig around, I'm sure there's something out there.
Might be simpler / more reliable to use a cell phone to SMS text the other person rather than count on their computer being up and the message getting through.
Quote:
Hey Vern, at the bottom of your post, under your name, in red, was this:
"You do not have the required permissions to view the files attached to this post."
and there was no attached screenshot. Yes, I am logged in.
Hrm.. interesting. I will have to take a look at permissions. If you are logged in you should see that. In the meantime, here is what the image was: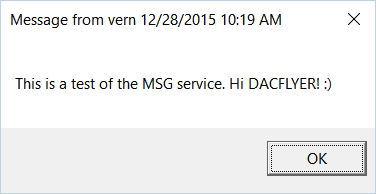 Vern